Company: Integrated Deicing Services
Aircraft Deicer (IDS)
IDS - MSP Airport - Minneapolis, MN 
PAY: $20.00/hr.  |  TYPE: Part-Time Seasonal  |  Shift: Various
Join us on our mission to provide the safest and most efficient deicing services to our airline partners.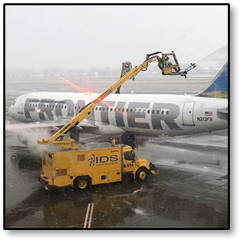 Aircraft Deicers play a critical role in maintaining our commitment to safety and operations. In this role, you will work directly with the operations team de-icing aircraft for our customers.  No experience is necessary - we will provide you with paid training! Join our team and build a long-term career with us!
NEW!!!!! Employees hired at this location are eligible to access earned pay when you need it! Ask about DailyPay during your interview!
Benefits you will receive:
$300 Referral Program (No Limit!)
Competitive Wages
Take along Dental Plan
Opportunity to receive earned pay quickly through DailyPay
Flexible Schedule
No Experience Needed – Paid Training Provided
Exciting growth and skill development opportunities
Employee Assistance Program (EAP)
Employee discount program
Provided with the opportunity to earn advancement with an increased wage ($1-$3 additional)
Why this role is important for our work:
Winter weather can adversely affect the performance of aircraft, making flight unsafe for passengers and flight crews.  Our job is to remove winter contaminants from aircraft prior to flight, getting everyone on board to their destination safely and on time.  Although this job can be challenging at times, it is very rewarding to know that you are keeping people safe. 
What you will do as an Aircraft Deicer at IDS:
Within your first week, you will complete a challenging and exciting training program that will teach you how to succeed in your new role.
Drive deicing trucks around aircraft and in areas around the airport.
Operate deicing truck booms and spray nozzle in close proximity to aircraft at heights exceeding 40 feet.
Use deicing fluids to remove winter contaminants such as frost, snow, slush, and ice from aircraft surfaces.  Use anti-icing fluids to protect aircraft surfaces from contaminants.
Utilize the latest technologies in dispatching and record-keeping tools on tablets.
Communicate with coworkers, support crews, dispatch, and flight crews in a clear and concise manner via headsets and radios.
Follow and uphold company, customer, and regulatory requirements and procedures when carrying out your duties.
Deicer video 1:   https://vimeo.com/684339688/073b47e918
Deicer video 2:   https://vimeo.com/374752210
What we are looking for:
Valid US driver's license.
Successful completion of the required airport badging process
Successful completion of all IDS classroom and practical de-/anti-icing training.
Ability to speak English in a clear, concise manner in order to communicate with coworkers, supervisors, and customers.  Able to speak and hear efficiently
Employees must be comfortable with heights (exceeding 40 feet).
Qualified Applicants must be legally authorized for employment in the United States and will not require employer-sponsored work authorization now or in the future for employment.
The Inland Group of Companies maintains a drug-free workplace and, as such, all candidates and employees can expect to participate in our drug testing program.
​
2022
EcoVadis (Certified Sustainability Performance Ratings)
The Inland Group of Companies
**Must be legally authorized to work in country of employment without requiring sponsorship for employment visa status, now or in the future.
About us:
The Inland Group of Companies is comprised of IDS, Inland Technologies, and Quantem Aviation Services. We offer a full range of airport and airline services, from aircraft deicing and spent ADF recovery to cargo and passenger handling. Our objective is to work continuously to develop services and programs that better meet our customers' operational needs.

We are an Equal Opportunity Employer, making decisions without regard to race, color, religion, sex, national origin, sexual orientation, gender, gender identity, veteran status, disability, or any other protected class. ​
Aircraft Deicer
What you will do as an Aircraft Deicer at IDS:
Within your first week, you will complete a challenging and exciting training program that will teach you how to succeed in your new role.
Drive deicing trucks around aircraft and in areas around the airport.
Operate deicing truck booms and spray nozzle in close proximity to aircraft at heights exceeding 40 feet.
Use deicing fluids to remove winter contaminants such as frost, snow, slush, and ice from aircraft surfaces.  Use anti-icing fluids to protect aircraft surfaces from contaminants.
Utilize the latest technologies in dispatching and record-keeping tools on tablets.
Communicate with coworkers, support crews, dispatch, and flight crews in a clear and concise manner via headsets and radios.
Follow and uphold company, customer, and regulatory requirements and procedures when carrying out your duties.
Deicer video 1:   https://vimeo.com/684339688/073b47e918
Deicer video 2:   https://vimeo.com/374752210
Inquiries and Information
Company
Integrated Deicing Services