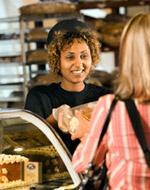 Looking for something different in a career? Consider your employment options at MSP.
Find out how you can become a part of this dynamic community of customer service-oriented individuals by contacting the airport employers listed below.
Additionally, a job fair will take place pre-security at Terminal 2 from 11 a.m. to 2 p.m. on Aug. 29 for a wide range of fields including hospitality, restaurants, retail, airlines and aviation. Openings include full-time, part-time and seasonal positions, and cover all skill levels. Great starting wages and full benefits are available.
Learn more about MSP's next job fair.
To see a listing of available positions, click here.
For the most accurate information about available positions, contact your employer of choice.