Jul 5, 2019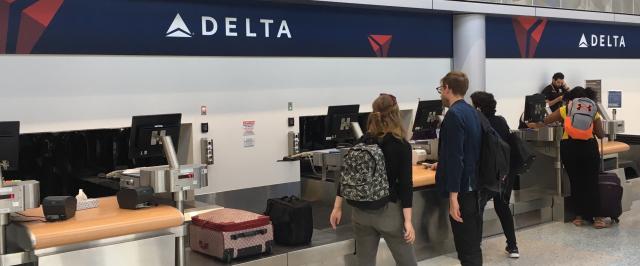 Delta Air Lines recently opened a passenger check-in counter on the east curbside of Minneapolis-St. Paul International Airport's Terminal 1, giving Delta passengers a new option for checking their bags.
The new service counter is located on the second level of the east curbside building – across from the existing drop-off area that is located directly in front of Terminal 1. The new east side location provides easy check-in access  for Delta customers who are being dropped off, or who are coming from the parking ramps, the Blue Line light rail or from dropping off their rental car.
A new overhead digital sign on Terminal 1's inbound roadway -- near the ramp that leads up to the departures level -- tells drivers when the east curbside check-in is open and directs them to their left-hand turn. Once at the curb, an overhead sign near Door 6 guides drivers to the Delta drop-off area.
Passengers coming from the parking ramps, rental cars or light rail will take an escalator or elevator up two levels from the tram level to access the new check-in counter.
The counter is open from 5 a.m. to 7 p.m. daily, subject to passenger volumes.
Adding this second, east side option for passenger drop off will help alleviate congestion in Terminal 1's ticketing lobby and at the west curbside in front of the terminal.
Once at the east side check-in, travelers searching for flight information won't have to look far -- displays at the counter provide real-time information on flight departure times and gates.
Above the check-in counter is art inspired by the work of Craig Blacklock, a renowned Minnesota photographer whose work focuses on the Lake Superior region. The punched aluminum artwork, which mimics the look of a tree canopy, provides a sophisticated backdrop to the space.