May 17, 2019
This time pigs really did fly.
Well, it was actually only one pig – and he flew less than 10 miles Wednesday (May 15) from Minneapolis-St. Paul International Airport (MSP) to the St. Paul Downtown Airport via a Sun Country Airlines charter.  
But even by the outlandish standards of the venerable St. Paul Saints baseball team, a flying pig was a stunt for the ages to mark the May 16 regular season opener for the Saints, whose mascot is a pig. His arrival was chronicled by a horde of TV news photographers and aviation aficionados.
"We brought the idea to the Saints and we worked together to make it happen," said Kirsten Wenker, a senior manager of Communications for Sun Country, which is the official airline for the Saints.
Just about everyone aboard the flight had a photo-op with the pint-sized porker, including Sun Country CEO Jude Bricker, the pilots and a full complement of flight attendants.
"This is fun – something different with the Saints stadium literally a stone's throw away," said Joe Harris, manager of the St. Paul and Lake Elmo airports. "And it is not every day we have a B737-800 operate out of St. Paul."
After being escorted off the Boeing 737-800 by Saints players Joey Wong and Devon Rodriguez, the one-month-old pig was driven by limousine across the Mississippi River to the Saints annual block party alongside CHS Field in downtown Saint Paul.
In keeping with tradition, the pig mascot was given a name following a month-long name-the-pig contest. This year, it is Daenerys Hoggaryen, a play on a popular character name from the Game of Thrones series, which is nearing its final episode on HBO.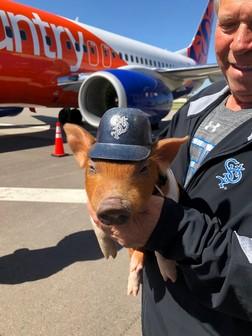 For many years, the pig's name has included a porcine nod to popular culture: Garrison Squeallor in 2007, Boarack Obama in 2008 and Alternative Fats in 2017, to name a few.
'When pigs fly' backstory
According to Wikipedia, the phrase "when pigs fly" has been in use since at least the 1600s to describe something that would never occur. But Wednesday's event wasn't the first time a pig was used in a high-profile PR stunt in an airplane.
That belongs to John Moore-Brabazon, a pioneer aviator from England, who placed a pig on his plane in 1909 as a joke to prove that pigs could fly.