The MSP Arts and Culture Program brings the arts to the airport.
Charged with a mission to enhance the airport, the nonprofit Airport Foundation MSP developed the MSP Arts and Culture Program in partnership with the airport's governing body, the Metropolitan Airports Commission (MAC). By 2008, the Arts and Culture Steering Committee had created the program's Master Plan to provide a framework for its operations and future initiatives.
The Foundation handles ongoing responsibility for coordination of projects, exhibits, and performances; communication with artists, community members, and project staff; and installation of equipment and exhibits. The MAC provides funding, spaces within the airport, infrastructure improvements to airport facilities, and involvement in all aspects of commissioned artworks that will be a part of airport infrastructure.
The MSP Arts and Culture Program showcases the Upper Midwest's diverse artistic community, natural environment, and cultural heritage. Multi-faceted, dynamic, and supportive of both internal and external communities, the program delivers arts that transform airport spaces, enhance the travel experience, and create a unique sense of place at MSP.
For all the details about the MSP Arts and Culture Programs, please visit the Foundation's website at www.AirportFoundation.org. There you will find information about MSP's visual and performing arts programs and events.
Terminal 1 Signature Artwork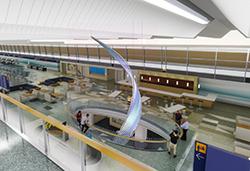 Jen Lewin, an artist internationally-known for large-scale, technology-driven, interactive artwork, has been selected to create a major artwork for Terminal 1.
The custom-designed piece will be called Aurora, a hovering wisp of glass and metal, floating above and below the ticketing level floor opening. Created from vintage glass bulbs, an aluminum honeycomb structure, and more than 8000 twinkling, interactive LEDs, the Aurora will mimic a graceful, ever-changing gesture of light.
A blue ribbon artist selection committee chose Lewin through a vetting process that included an invitation to 59 artists experienced in creating this type of large-scale public work. Lewin will be assisted in the process by a Minnesota artist who she will mentor as part of the project.
Lewin already has experience creating interactive pieces in Minnesota; she designed the sidewalk harp located near Target Field. People walking by that piece can make music by waving their hands under a series of LED lights.
Click here to learn more about Aurora.
Click here to learn more about the artist selection process.