Shared Ride Services – Metro Area
---
Shared ride service to and from the airport is available through SuperShuttle.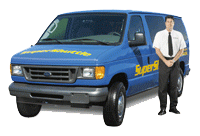 Ticket counters are located in the Terminal 1-Lindbergh Ground Transport Center, accessible via the terminal's Tram Level. Follow the signs to the escalator or elevator up. Advance reservations are highly recommended.
Shuttles drop off travelers near the Green and Gold parking ramps across from Terminal 1. From there, you can take an escalator or elevator down to the terminal's Tram Level or up to the Ticketing Level.
Travelers arriving at Terminal 2-Humphrey can call for pick up at the Super Shuttle kiosk in the Ground Transport Center, located on Level 1 of the Purple Ramp across from the terminal building. 
General Reservations: 1-800-BLUE VAN or 1-800-258-3826
Email: mspsales@supershuttle.net
Website: www.supershuttle.com
 
Scheduled Services
---
Scheduled bus, van and limousine service is provided by several companies at MSP. Ticket counters are located in the Ground Transport Center, one floor up from the Tram Level in Terminal 1. Advance reservations are highly recommended for out-of-town service. Please contact the individual companies directly for rates, routes and other information. 
 
Chippewa Valley Airport Service
Service to Eau Claire, Menomonie, Baldwin, and Hudson, Wisconsin.
Phone: 1-877-811-4211 or 715-830-9400
www.chippewavalleyairportservice.com 
 
Executive Express 
Service to Albany, Alexandria, Albertville, Avon, Baxter, Bertha, Brainerd, Browerville, Camp Ripley, Clarissa,  Clearwater, Cold Spring, College of St. Benedict, Cyrus, Eagle Bend, Glenwood, Hewitt, Little Falls, Long Prairie, Maple Grove, Melrose, Monticello, Morris, New London, Osakis, Paynesville,  Plymouth, Rogers, Sauk Centre, Spicer, St. Cloud, St. John's University, Starbuck, Wadena, Willmar. Service to other out-state cities in central Minnesota can be made by special arrangements.
Phone: 1-888-522- 9899
www.executiveexpress.biz 
 
GO Carefree Shuttle
Service to Lewiston, St. Charles and Winona, Minnesota; also La Crosse and Onalaska, Wisconsin
Phone: 1-888-781-5181 or 608-781-5181
www.gocarefreeshuttle.com
 
GO Rochester Direct
Service to and from Rochester, including stops at the Mayo Clinic, IBM and area hotels
Phone: 1-800-280-9270 or 507-280-9270
www.gorochesterdirect.com
 
Jefferson/Greyhound 
Service to Minnesota, Iowa, Wisconsin, North and South Dakota.
*Tickets are available at the Rochester Direct counter. 
 
Land to Air Express 
Service to Mankato and St. Peter, Minnesota.
Phone: 1-888-736-9190 or 507-625-3977 
www.landtoairexpress.com  
 
NWT Express Shuttle
Scheduled and charter service to these Wisconsin cities: Hayward, Spooner, Rice Lake, Cumberland, Turtle Lake, Amery, New Richmond and St. Croix Falls
Phone: 1-877-698-3977 
www.nwtexpressshuttle.com
 
Rochester Shuttle Service
Service to Rochester
Phone: 507-216-6354 or 1-888-998-9098
www.rochestershuttleservice.com
 
Star Shuttle Service
Service to Rochester and 52 corridor
Phone: 507-281-0969 or 844-782-7743
www.ridewithstar.com
 
Skyline Shuttle
Service to Duluth and Hinckley
Phone: 218-724-4676 or 888-354-2677
www.skylineshuttle.com